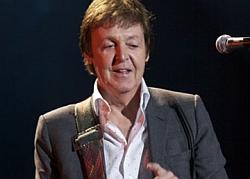 Уважаемый сэр Пол Маккартни!
Мы просим Вас дополнить сет-лист для Вашего предстоящего выступления на Площади Независимости в Киеве.
В 2003 году во время Вашего первого визита на бывшую территорию СССР на московском концерте Вы по просьбе поклонников дважды исполнили композицию "Back In The USSR". Надеемся, что в Киеве мы также услышим эту песню. Однако, учитывая, что предстоящий концерт будет не частью какого-либо тура, а скорее каким-то особым событием, хотелось бы, чтобы он имел свою «изюминку».
Так сложилось, что одной из самых известных и популярных Ваших песен в Советском Союзе была "Mrs Vandebilt". Из-за «железного занавеса» мы слышали очень мало рок-н-ролльной музыки. Но именно песню "Mrs Vandebilt" все знали и любили. В середине 70-х она заводила всю страну, а слова из ее припева «Хоп, хей хоп» можно было услышать и на вечеринках, и на демонстрациях, и их повторяли советские люди всех возрастов. Эта песня до сих пор объединяет нас и напоминает нам о тех временах.
В своём обращении к Украине Вы говорили: «Это будет особенный день, и, надеюсь, он станет великим днём для Украины». Так обязательно и будет. Если Вы споете ещё и эту песню, это будет просто потрясающе! Клуб Битлз.ру будет Вам очень признателен, если Вы рассмотрите возможность исполнения песни "Mrs Vandebilt" 14 июня на концерте на Площади Независимости в Киеве.
Благодарим за внимание,
Искренне Ваши,
Клуб «Битлз.ру»
--------------------------------------------------------------
Dear sir Paul McCartney,
We would like to ask you to do us a great favour and review your set-list for the forthcoming concert in the Independence Square in Kiev.

During your first visit to the former USSR in 2003 you performed "Back In The USSR" twice as it was a special request at the Moscow concert. We do hope to hear "Back In The USSR" in Kiev, too. But since the concert will not be part of your tour, but rather a kind of an extraordinary event, we would appreciate if it could have some "special feature".
Strange as it may seem, it happened historically that "Mrs Vandebilt" was one of most famous and favourite songs of yours among the soviet people. The "iron curtain" prevented us from hearing much of the rock'n'roll music. But "Mrs Vandebilt" was the song that everybody knew and loved. It shook up all the country in the mid 70's, and the lyrics in the refrain "Ho hey ho" could be heard at parties as well as at communist demonstrations, and they were repeated by people of all ages. And nowadays it is still something that unites Ukrainian and Russian Beatles fans and reminds us of those days.
Another reason why we are so particular about this song is that the words in the refrain sound very much like the Ukrainian interjection «Гоп» [hop], so the song has a kind of national colouring.
We know that you like to sing with the audience. "Hey Jude" proves this perfectly. And imagine a crowd of many thousands of fans singing along "HO HEY HO!". Would not that be something marvellous?..!
In your address to the Ukraine you said: "It's gonna be a great evening, and a great evening hopefully for the Ukraine". It is sure to be a great evening, but "Mrs Vandebilt" would make it twice as great!
So, the Beatles.ru club would be very grateful to you if you consider the possibility of performing this song on June, 14 in the Independence Square, Kiev.
Thank you for your attention,
Yours sincerely,
The Beatles.ru club.
--------------------------------------------------------------

Alexey Bogaevsky (Corvin) – Moscow, Russia
Kateryna Cherepanova (Lucy In The Sky) – Kiev, Ukraine
Sergiy Pchelin (PaulRamon) – Kiev, Ukraine
Vadim Legkokonets (Вад) – Kiev, Ukraine
Ptitsa Alexandr (Ptichka Webbird) – Kiev, Ukraine
Sergey Gribushin (Грибушин Сергей Иванович) – St.Petersburg, Russia
JohnLenin – Moscow, Russia
Anton Efremov (BassPaul) – Moscow, Russia
Galina Lisitza (Lisya) – Moscow, Russia
Ivan Rybalco (Johnny_beatle) – Simferopol, Ukraine
Maksim Kreschuk (John McCartney) – Penza, Russia
Mihalev Petr (Гамлет) – Moscow, Russia Mikhailova Tatiana (MiShutka19) – St.Petersburg, Russia
Beatlekid – Moscow, Russia
Rasskazova Tatyana (Этна) – Samara, Russia
Natalya Vinogradova (Barbara) – Moscow, Russia
Sergey Philyukov (Sergphil) – Donetsk, Ukraine
Коля Денисов – Moscow, Russia
Bolmatova Alexandra (Maryleen Foxy) – Gomel, Belarus
Bolmatov Alexandr (Beatbol) – Gomel, Belarus
Betsy – Rostov-on-Don, Russia
Elena Mordovina (LeeLoo) – Moscow, Russia
Kulikova Natali (жужа) - Moscow, Russia
Alexey Perchik (SgtPepper) - Moscow, Russia
Chudnovets Andrey (MUR) - Moscow, Russia
Yashutina Ekaterina (Katyuwa) - Moscow, Russia
Oleg Vakhrushev (LV) - Moscow, Russia
Valentine Razvozzhaev (One cool cat) – Penza, Russia
Zhanna Hatsayuk (Lovely_Rita) – Odessa, Ukraine
Kuznetsov Maksim (Kurt Donald Cobain) - Moscow, Russia
Anastasia Moiseyeva (Arjata) - Moscow, Russia
Pavel Kroupin - Moscow, Russia
Olga Chernyak (rednef89) – Kharkiv, Ukraine
Ivan Kovtynov (Bario67) – Kharkiv, Ukraine
June – Sochi, Russia
Mary Jane1 - Moscow, Russia
Jude - Moscow, Russia
Anna Maiorova (anna0307) - Moscow, Russia
druganoff - Kiev, Ukraine
Sergey Lutskov (sergey_l71) - Yampil, Sumy region, Ukraine
Тёма Стоунз - Moscow, Russia
Олег Игоревич Мокряков - Moscow, Russia
Nick Minin (Minin&Pojarski) - Odessa, Ukraine
Igor Budnitskiy (Ram On The Run) – Kaliningrad, Russia
Sgt. Paper – YYekaterinburg, Russia
Alexey Korshun (Mr. Kite) - YYekaterinburg, Russia
Drybushchak – Vinnitsa, Ukraine
Bazyrin – Novokuznetsk, Russia
Elena Rozenberg (Ленаnn) – Simferopol, Ukraine
Marina Simaganova (maryflower) - Moscow, Russia
Alexandr Nadyojin (tihelper) - Moscow, Russia
With A Little Luck – Togliatty, Russia
Alexander Gudkov - Togliatty, Russia
SAM (ex-SamStarr) - Moscow, Russia
игорь комсомоленко – Tambov, Russia
oco – Hmelnitskiy, Ukraine
cuorryman - Kiev, Ukraine
andre - Klaipeda
Tonya - Kharkiv, Ukraine
Paha - Moscow, Russia
crimson dynamo - Moscow, Russia
Valentin Sulaberidze (killa) - Moscow, Russia
Mikhail Vagan (Invisible Man) – Rostov-on-Don, Russia
Anna Krasnopeeva (Anickey) - Moscow, Russia
William Gilmanshin (Just W) - St.Petersburg, Russia
Daria Kobzarenko (daria13k) – Voronezh, Russia
Dr. Robert! – Zelenograd, Russia
Tatiana Starygina (startank) - Moscow, Russia
Nickolai Grigoriev (Nicky de Gree) - Moscow, Russia
Shokhalevich Denis (SAD-D) – Brest, Belarus
Jaroslav Korzh (Jaroslavko) – Krasnodar,Russia
Karp Ekaterina (Katy) - Moscow, Russia
Sergey Kachalov (Jerry Then) - Moscow, Russia
Arthur Leeee – Odessa, Ukraine
Шеттерхенд – Evpatoria, Ukraine
Igorekk - Moscow, Russia
Aleksandra Chachina (S.Saidy) – Kiev, Ukraine
uhty – Hmelnitskiy, Ukraine
Igor Poteshin (ИГОРЬ) – Krasnodar, Russia
Darya Chachina (Darlene) - Kiev, Ukraine
Stanislav Zayviy (Zayats) Moscow,Russia
Asya Safiullina (Iwill) – Saratov, Russia
Doroshenko Masha (Me4ta_idiota) - Kiev, Ukraine
Doroshenko Tanya (always_ultra) - Kiev, Ukraine
Virgo – Samara, Russia
Zahar Koretskii (Clye) – Kishenev, Moldova Ekaterina Kapanji – Kishinev, Moldova
Anastasya Berzoy – Kishinev, Moldova
bernett - Moscow, Russia
Elena Vasina (vassaby) - Moscow, Russia
Sergey Lomtev (vetm) - Moscow, Russia
Vitaliy Drobatuk (OldMaster) – Chita, Russia
Olga Nepokulchitskaya (Martha McHarLenStarr) – Kiev, Ukraine
Tatiana Pyrch (*TatJana*) - Kiev, Ukraine
Ponyband - Moscow, Russia
12barman
Svetlana Bezrukova (Svetk@) - Komsomolsk-on-Amur, Russia
elfe – LasVegas, USA
Alexander Lugovskoy (Jim (Л.А.)) - Kolpashevo, Russia
Oleg Lukshov (Flower -cat) - Novosibirsk, Russia
Victor Panchev (Pan) - Moscow, Russia
Guriev Denis (McDen) - Novosibirsk, Russia
Erbol Amrenov (ERPAUL) – Astana, Kazakhstan
Bizhan Tambacuchi (Bizhan) - Saint Petersburg, Russia
Paul Bodrov (Sion22) - Rostov-on-Don, Russia
Evgenia Plekhanova (Jenny Sunny) - Saint-Petersburg, Russia
Sergei Yakupov (Бродячий Кот) - Perm, Russia
Zujkov Ivan (GON) - Krasnoyarsk, Russia
Andrew Korygin (kryga) - Nizhni Novgorod, Russia
Alex Pylin (IronBee) - Moscow, Russia
Kozelski Andrew (backAzimuth) - Rostov-on-Don, Russia
Armen Zohrabyan (Armen) - Yerevan, Armenia
Igor Redchuk (infty) - Kiev, Ukraine
Gritchin Vladimir (Bearing) - Yekaterinburg, Russia
Sergey Kozlov (Srgey L.) - Almaty, Kazakhstan
Anastasia Khevrolina (Astrid Kerscher) - Moscow, Russia
Aziz Khasanov (zizo) - Tashkent, Uzbekistan
Panchenko Olga (Olga&) - Moscow, Russia
migulko victor (wm) – Odessa, Ukraine
Sergey Sukov (vozduh05) - Moscow, Russia
Yuriy Tkachuk (projecteo) - Kiev, Ukraine
Schepkin Alexandr (Унцель Альберт) - Voronezh, Russia
Sergey Chernov (Чернов Сергей) - Sumy, Ukraine
Roman Parenkov (Роман Злодей Пареньков) - Kazan, Russia
Diana Ulkarova (Diana) - Togliatty, Russia
Artyom Babayan (Brainwashed) - Moscow, Russia
Serge Kurchevsky (Charlie) - Saint Petersburg, Russia
Vitaliy Kharytonov (Харитонов Виталий) - Kryviy Rih, Ukraine
Eleonora Simonova (DarkSweet Lady) - Tambov, Russia
Vyacheslav Volkov (Drunk) - Tikhoretsk, Russia
Julia Yakomaskina (Romashka) - Samara, Russia
Anton Vazimov (Vaizer) - Krasnogorsk, Russia
Denis Katsan (Natty) - Kiev, Ukraine
Alex Petrov (ausong) - Moscow, Russia
Vladimir Zolotov (Country Bob) - Moscow region, Russia
Zgirsky Yuri (JohnWLennon) - Riga, Latvia
Sergey Glazkov (Glaz) - Protvino, Russia
Ewgrafow Sergey (LongTalllllSally) - Tulun, Russia
Petrov Sergey (RollyBeOnoLennon) - Saint Petersburg, Russia
Gennady Kharitonov (Krysopes) - Moscow, Russia
Aleksandr Aleksandrov (Algral) - Nizhni Novgorod, Russia
Alexandra Kroupina (bernett) - Moscow, Russia
Alexandr Gorsky (Александр I) - St.Petersburg, Russia
Volodymyr Drybushchak (Drybushchak) - Vinnitsa, Ukraine
Churakova Valentina (Mary Robins) - Moscow, Russia
Polyakov Sergey (paul04) - Moscow, Russia
Oksana Mironova (Yola) - Omsk, Russia
Vlad Yanikovskiy (Ли Верпулец) - Omsk, Russia
Dmitry Votchinnikov (Мечтатель) - Kharkov , Ukraine
Denis Kuznetsov (Rocky Racoon) - Moscow, Russia
Alexander Dryzlov (Саня из Питера) - Saint Petersburg, Russia
Natalia Ivanova (GlassOnion) - Novorossiysk, Russia
Alexander Matchugovsky (Manwe) - Moscow, Russia
Sergey Sharipov (SHAR) – Karaganda, Kazakstan
Wiktor Pyrcz (Wiktor) - Kyiv, Ukraine
Sergey Ilin (Сергей Ильин) - Moscow, Russia
Alkoid - Tiraspol
Sergey Rebriy (Sergey Rebriy) - Togliatti, Russia
Konstantinov Konstantin (Costa Costella) - Moscow, Russia
Hachaturova Ekaterina (Шельма) - Novosibirsk, Russia
Zakirov Alfir (alfir) - Kazan, Tatarstan, Russia
Vadim Semyonoff (Pyth0n) - Velikiy Novgorod, Russia
Dmitry Blinov (Dietrich) - Moscow, Russia
Sergei Ustenko (King Of Marigold) - Yaroslavl, Russia
Maria Kunle (winterland) - Moscow, Russia
Oleg Norchenko (OlegN) - Moscow, Russia
Andrey Tereshchenko (TAO Blues) - Chernigov, Ukraine
Ilya Bogatyryov (Ilja) - Tallinn, Estonia
Olga Filimonova (… за 40) - Moscow, Russia
Polukhin Gleb (semiotov) - Donetsk, Ukraine
Leonardo Pihlakas (koshei) - Tallinn, Estonia
Safaryan Lusine (potam) - St.Peterburg, Russia
Batalin Pavel (Павил) - Yekaterinburg, Russia
Anna Doncova (Lady Anna) - Moscow, Russia
Viktor Fokin (Fok) - Moscow, Russia
Aleksandr Silujanov (Saleks) – Visaginas, Lithuania
Yaroslav Ivanov (Yar) - Moskow-Udomlya, Russia
Victor Roznowski (Vic Paul) - St,Petersburg, Russia
Dmitry Baranov (buches) - Moscow, Russia
Solomin Ivan (Arthur Leeee) - Odessa, Ukraine
Veronika Livshits (Crazy) - Orel, Russia
Reut Ivan (Blue Meanies) - Minsk, Belarus
Gennady Lugovoy (Старик) - Maloyaroslavets, Kaluga region, Russia
Irina Wolkowa (Angel A) - Izhevsk, Russia
Yuri Gomeniuk (Y) - Kiev, Ukraine
Daniel Maslovsky (dannymass) – Novasibirsk, Russia
Irina Kiseleva (sistermorphine) – Korolev, Russia
Igor Maximov (саундмакс) - Moscow, Russia
Olga A. Kurchatkina (Wilhelmina) - Moscow, Russia
George J. Georgievsky (GuG) - Moscow, Russia
Roman Danilov (RamOn) - Moscow, Russia
Igor Dvoinyh (Brother Igor) - Mozyr, Belarus
Alina Mogilchenko (haruko) - Voronezh, Russia
Ilya Valinurov (Илья) - Pervouralsk, Russia
Anna Lukyanskaya (LaNnA) - Perm, Russia
Polina Anikeeva - Perm, Russia
Olga Kovaljova (Olya8) - Lvov, Ukraine
А.Р. (Alja) – Minsk, Belarus
Kolpakovich Kirill (Hawky) - Kishinev, Moldova
Margarita Shcheglova (Fred-Romana) - Moscow, Russia
Assylbek Zhienbayev (AsillyBeat) – Kazalinsk, Kazakhstan
Dmitriy Simaganov (AlCapone) - Moscow, Russia
Evgeny Koshelev (mellowdubmarine) - Shatura
Leonid Gourov (Leonid Gourov) - Moscow, Russia
Chechin Mikhail (Bellamy) – Zhukovsky, Moscow region, Russia
Anton Vagin (Groundchuck) - Moscow, Russia
Alexey Rozov (RICCI) - Moscow, Russia
Ilya Kuvshinov (zeta) - Moscow, Russia
Serezha Vanejan (Sun-King) - Moscow, Russia
Liza Vanejan - Moscow, Russia
Alexander Gasilov(Mankees) – Yekaterinburg, Moscow
Eugene Filatov (ESF) – Yaroslavl, Moscow
lev Shabanov (Wollrus) – Tomsk, Russia
Tanya Shabanova - Tomsk, Russia
Sasha Shabanov - Tomsk, Russia
Masha Shabanova - Tomsk, Russia
Misha Shabanov - Tomsk, Russia
Pavel Gorban (pauLL) – Feodosiy, Ukraine
Tatyana Finogenova (tochka) – Tjumen, Russia
Ivan Horbyk (Ivan1986) – Zaporizhzhya, Ukraine
Vyacheslav Salnis(BlackbirdSlava) - Naro-Fominsk, Russia
Julia Sweglova (Julydance) - Naro-Fominsk, Russia
Julia (Mynameistaken) - Moscow, Russia
Nifanin Vasiliy (NVA) – Verhnyaya Toima
Dmitry Necludov (Дмитрий Неклюдов) - Moscow, Russia
Pavel Ivanov (beard) - Kharkiv,Ukraine
Vyacheslav Protopopov (Вячеслав Протопопов) – Perm, Russia
Kostyukova Lyuda (always sunshine) – Vitebsk, Belarus
Olexiy Prosnitsky (alden) – Krivoy Rig, Ukraine
Miroshnichenko Maria (Phaedra) – Balashiha, Russia
Kuvshinov Alexandr (alex2163) – Moscow, Russia
Nadezda Smetanina (Kvadrick) - Moscow, Russia
Maxim Strizhevskiy (Johnn) - Moscow, Russia
Chashkina(Baburina) Anastasia (Asya) - Yekaterinburg, Russia
Chashkin Ilya – Yekaterinburg, Russia
Andrey Belykh (and-white) - Tim village, Kursk region, Russia
Evgeni Kashtanov (Johny) – Buzuluk, Orenburg region, Russia
Alexander Martens (Maloh)- Cheljabinsk, Russia
Stroynovsky Dmitry (tipas) - Minsk-Belarus
Vladimir Batenev (BVJ) - Tallinn, Estonia
Maxim Chumak (cmi) - Moscow, Russia
Gorkov Vyacheslav (glutton) – Simferopol, Ukraine
Zhuk Ekaterina – Moscow, Russia
Frolova Maia – Moscow, Russia
Potapov Alexandre (apotapov) - Moscow, Russia
Anna Afanasyeva (Shopeniha) - Tula, Russia
Maxim Khvostov (ХМН) - Samara, Russia
Luka Kalandarishvili (Luka Harrison) - Tbilisi, Georgia
Evgeniy Zaharenko, Ozery, Russia
Mart Krapchen, Ashkelon, Israel
Dmitry Savvin, Saint-Petersburg, Russia
Maria Novitskaya, Kaluga, Russia
Soslan Ramonov, North Ossetia-Alania,Vladikavkaz
Kirill Trushin (kirill) – Moscow, Russia.
Andrey A. Safonov (ASafonov) - Moscow, Russia
Gorbunov Gennadt - Odessa, Ukraine
Basov Dmitriy - Moscow, Russia
Shatilov Andrei - Volgograd, Russia